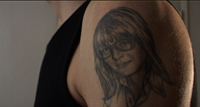 Director: mekanix in collaboration with Dana Barsk
Producer: Erik Jeppsson, Andja Arneback
Director of photography: Malin Korkeasalo, Andja Arneback
Editing and Sound: Marcus Johansson
Music: Cinemascape, Billy Jones, Marcus Johansson


The Change
"About a young man's longing to be the one he is, even in the public domain."

Produced with support from Film i Vast and SVT, Swedish Television

Kvarta Over is a documentary format developed by Film i Vast in collaboration with SVT Vast, a venture aimed at filmmakers in West of Sweden.
In this first game, four films with a common theme, produced under the same conditions, is to be sent together in SVT under the common header "Kvarta over".

The aim is to create a space for experimentation and possible innovations. New subjective and independent images of reality is sought. It is hoped that the restricted format can stimulate the imagination and force the unconventional stories.