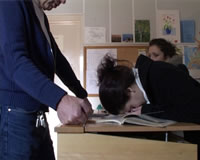 Director: Andja Arneback
Director of photography: Malin Korkeasalo
Producer: Andja Arneback
Script: Andja Arneback / Malin Korkeasalo
Editing: Sophia Olsson
Sound design / mix: Erik Jeppsson / J Fredric Bergstrom
Music: Bjorn Holmudd / Erik Jeppsson

Display Format: DVCAM
Ratio: 16:9 LB
Sound: Stereo


My life now!
Shqipe and her two friends are the only students in their class.
What will happen when school is over?