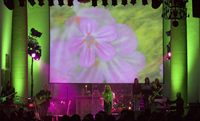 Still photo: Mikael Ringlander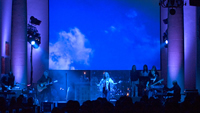 Still photo: Mikael Ringlander
Director: Erik Jeppsson
Producer: Cultural Collaboration, Church of Sweden / Mekanix
Editing: Erik Jeppsson
Animations: Erik Jeppsson, Anders Hagstrom

Display Format: DVCAM
Ratio: 4:3
Sound: Stereo

Via Mystica
The Church of Sweden's co-operation with Gothenburg Film Festival has, among other things, resulted in the
multimedia mass "Via Mystica", which premiered in 2002 and since then have been raised on several occasions in Annedal Church. The mass has also been on tour in Vaxjo diocese, and in Skellefteċ.

These masses, with the help of video projections and advanced lighting technology, had the ambition to give back to the image a place in worship and church room.
The music, performed live, is taken from U2, Depeche Mode, Jeff Beck
Van Morrisson, Alanis Morisette and others.
Via Mystica have thru the years been updated several times, and new videos have been added at each performance.

Mekanix have been responsible for the production of videos as well as the technical production of the masses.