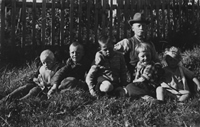 Director: Andja Arneback
Producer: Erik Jeppsson
Director of Photography: Sophia Olsson, Malin Korkeasalo
Editor: Rasmus Ohlander
Sound, music and drawings: Hanna Ostergren
Video Animations: Marcus Johansson


Walborgs Kids

A film about the director Andja Arnebacks family:

"When I am pregnant with my first child and make ultrasound, I am reminded of the coincidence of me and my children have had to be. Mom told me that they wanted to sterilize my grandmother. Via archives and in the meeting with the grandmother's brothers, Axel and Knut, I investigate what actually happened when they grew up in Gothenburg. "


Produced with support from SVT Vast, Film i Vast, the Swedish Film Institute, The Swedish Arts Grants Committee , Kommunalforbundet Stretered and The Living History Forum in Gothenburg.